According to projections by MJBizDaily, the U.S. cannabis industry can expect to more than double over the next three years.
When COVID-19 lockdowns began to proliferate at the beginning of this year, the economy was plunged into a precipitous decline, and supply chains across the globe began to break down. Naturally, it was assumed that the cannabis industry would take a major hit as a result of this, with supply-chain disruptions to ancillary cannabis products like vaporizers, and the refusal by the federal government to provide relief funding to the industry.
However, amid the lockdowns, the cannabis industry was almost unanimously deemed "essential" by state legislators and officials, and not only did business resume as usual, but most states actually saw a sharp increase in cannabis sales.
While this was initially surprising to most within the industry, there are several reasons this spike in sales occurred; increased anxiety surrounding COVID-19 which prompted people to pick up medicinal marijuana, people stockpiling cannabis out of fear they will run out, lockdown laws prompting substance use out of boredom, and an increase in benefits to those who were unemployed during the coronavirus pandemic.
Regardless of the reason, states like Illinois enjoyed record-high cannabis sales during a period where they braced for the worst. As such, MJBizDaily has projected that cannabis sales in the United States are "on pace to eclipse $15 billion by the end of 2020, an increase of approximately 40% over 2019 sales figures." Moreover, the company projects that total sales of the cannabis industry in the U.S. could rise as high as $37 billion by 2023.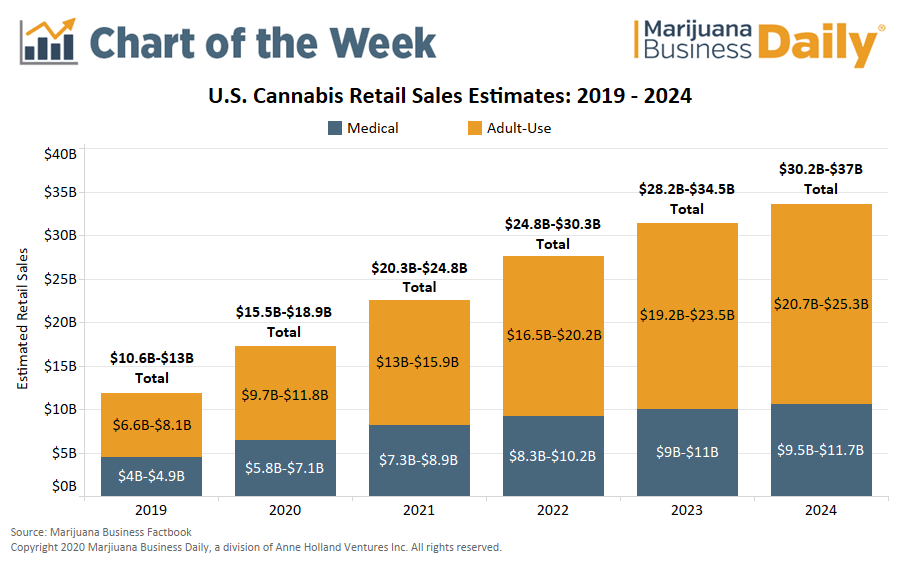 The Marijuana Business Factbook looked into each state and found that the medical marijuana markets in Florida, Maryland, Oklahoma and Pennsylvania have thrived amid COVID-19, with over 8% of Oklahoma's total population being registered for MMJ.
The Factbook goes on to mention that sales in Florida and Oklahoma are predicted to exceed $1 billion in each state by 2021, and newer markets like Michigan and Illinois are expected to generate $2 billion in annual sales by 2024.
MjBizDaily additionally states that while California is shrouded in regulatory red-tape and high taxes, the $3 billion generated in 2019 by the Golden State surpass Colorado and Washington combined, and makes California a very hot commodity when it comes to cannabis business owners.
All-in-all, the U.S. cannabis industry remains robust and vibrant, and has proved resilient in the face of COVID-19 and the disruptions that followed. Whether these sales increases will continue once the COVID-19 unemployment relief dries up is yet to be seen, but nonetheless, the future for the United States is certainly green.
Get the Latest Marijuana News &
Content in your Inbox!
All your support helps The Green Fund keep writing content for all you
marijuana enthusiasts and potential pot stock investors